AOT celebrates 44th anniversary with commitment to offer impressive travel experiences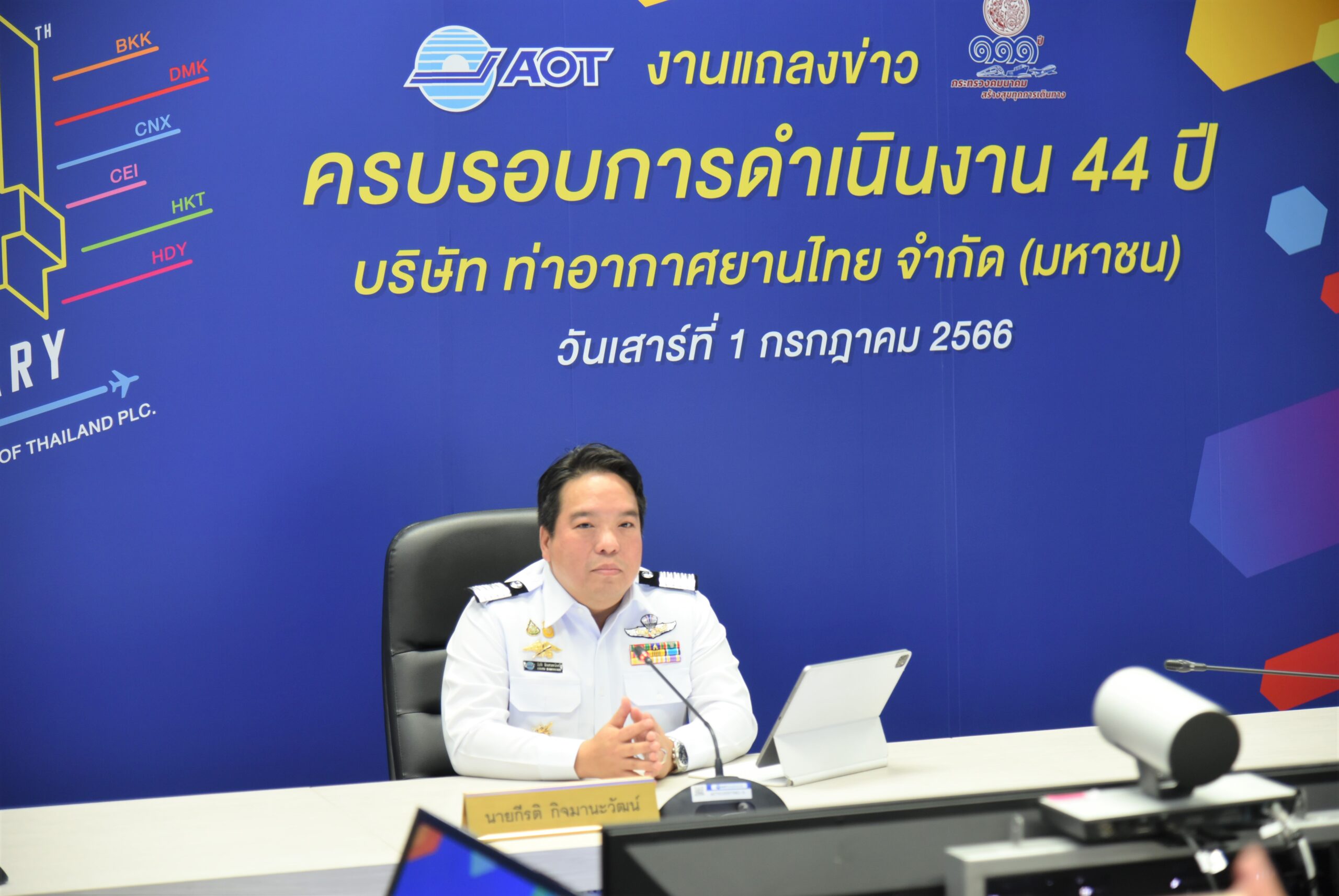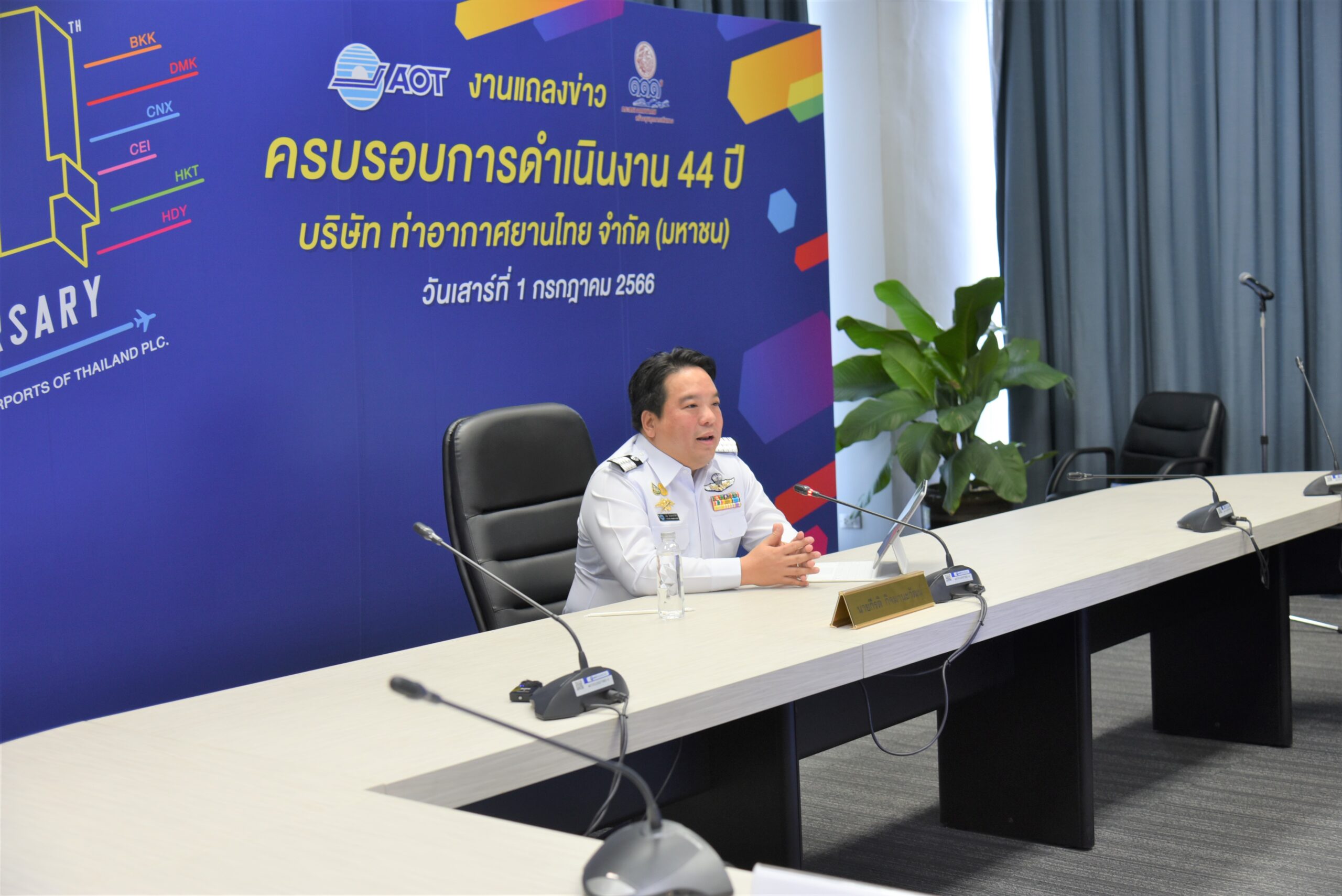 The Airports of Thailand PLC. (AOT) marks its 44th anniversary on 1 July 2023 with a commitment to offer passengers an impressive travel experience at its modern airports fit out with innovation and technology geared towards providing utmost facilitation to travellers. At the same time, AOT has vowed to expedite the expansion of its airports to accommodate future passenger traffic demand.
AOT's president Dr. Kerati Kijmanawat said these are the company's top priorities as the company forecasts that passenger traffic through its sites in 2023 would return to about 95 million this year and rising to the pre-Covid level of 142 million next year. Total air traffic volumes at six AOT-operated airports namely Suvarnabhumi Airport, Don Mueang International Airport, Chiang Mai International Airport, Mae Fah Luang-Chiang Rai International Airport, Phuket International Airport, and Hat Yai International Airport in the eight months to May 2023 soared 170.4% over the previous same period to 66.38 million. That comprised 34.31 million for international passengers (up 635.7%) and 32.06 million in domestic (up 61.3%). Meanwhile, the combined aircraft movements (take-offs and landings) in the eight-month period reached 422,900, an increase of 79% from the same period earlier, breaking down into 202,700 international (up 175.2%) and 220,300 domestic (up 35.4%).
Suvarnabhumi Airport, reported a 230.8% jump in passenger traffic in the period to 31.60 million, consisting of 23.46 million international (up 575.8%) and 8.14 million domestic (up 33.8%). Aircraft movements through the airport rose 72.1% in the period to 192,000, dividing into 131,000 international (up 118.2%) and 61,000 domestic (up 18.3%). Don Mueang International Airport, posted 17.03 million passengers, up by 158.6%, consisting of 5.16 million international (up 4,029.3%), and 11.87 million domestic (up 83.7%). In terms of aircraft movements, the airport handled 110.3% more flights to 117,300, breaking down into 38,600 international (up 1,080.2%) and 78,700 domestic (up 49.8%).
However, when considering the actual figures recorded in May 2023 comparing with the average daily passenger number with the pre-COVID-19 level, it was found that AOT's six airports catered to an average of 300,000 passengers per day, representing a 76.5% recovery. Passenger traffic through Suvarnabhumi Airport came to a daily average of about 140,000-150,000, up by 70%, while the average at Don Mueang was at around 90,000-100,000, an increase of 65%.
Dr. Kerati noted that the actual air traffic figures and AOT projections are in line with the forecasts made by the International Air Transport Association (IATA). The association has suggested that global passenger traffic would swing back to the 2019 level in 2023-2024 and continue to edge up. Therefore, AOT, as the operator of gateway to travellers from all over the world under the supervision of the Ministry of Transport, is working strenuously to ramp up the airports' capabilities
and increasing service efficiency especially at the major airports with heavy traffic such as Suvarnabhumi, Don Mueang and Phuket. In particular, Suvarnabhumi Airport has enhanced passenger services by introducing new technology like Common Use Self Service (CUSS) machines for self-check-in, Common Use Bag Drop (CUBD) for self-loading, and the Automatic Return Tray System (ARTS) that solves congestion in queues at ticket counters and the international passenger checkpoint area. Meanwhile, all information about services at the AOT-operated airports can be easily accessed at all time through SAWASDEE by AOT application.
Dr. Kerati said AOT is pro-actively solving the over-crowding at the passport control area at Suvarnabhumi Airport with the installation of Auto Channel machines to serve outbound passengers who hold e-Passports issued by 90 countries around the world. Besides Thai passport holders, inbound passengers from Singapore and Hong Kong will be able to make use of the Auto Channels under the cooperation agreements Thailand has concluded with those two states. The facility is expected to be up and running at the Suvarnabhumi and Don Mueang airports by 2024. As a result, Suvarnabhumi Airport will be able to serve up to 8,800 departing passengers per hour, from 6,200 currently, and processing 13,300 incoming passengers per hour from 11,000 at the moment. Likewise, Don Mueang will see its departing passenger handling capacity levelling up to 3,600 per hour from 3,000, with the arrival handling capacity to 3,600 per hour from 3,100. In tackling luggage delays due to insufficient apron operators and ground equipment, the cabinet has on 7 March 2023 approved the project to provide parking and ground equipment, ground passenger services and other related operations at Suvarnabhumi Airport of the third operator along with the cargo service project at Suvarnabhumi Airport of the third operator. AOT is in the process of pursuant to the Public-Private Joint Investment Act B.E. 2562 in respect of selecting the private partnership. AOT expects to announce an operator by 2024 to deal with baggage delays, accommodating more airlines flying to Thailand, as well as stimulating the country's tourism industry.
Dr. Kerati said AOT will continue to focus on creating a memorable experience for passengers passing through its airports with modern facilities and satisfying services. Along that line, AOT will introduce the Automated Biometric Identification System (Biometric) with Facial Recognition technology in identifying passengers. Therefore, when passengers come to check in at the normal check-in counter or at the CUSS and indicating their consent for the use of personal identity information, the biometric system will combine the passenger's face information with passenger travel information to create data for identity verification called One ID. By completing that process, passengers will only need to scan their faces to check their baggage at the CUBD machine, as well as verifying their identity when using their boarding pass at the security checkpoint and the boarding gate. Biometric takes less time, highly accurate and cutting the time to wait in the queue for inspection at each service point. Currently, AOT has developed and testing the system with airlines and with a target to have it operational by mid-2024.
In September 2023, AOT is due to start operating the satellite passenger terminal, known as SAT-1, at Suvarnabhumi Airport which is capable of accommodating another 15 million passengers per year, thus boosting the airport's total passenger handling capacity to 60 million people per year. The SAT-1 building has a spacious area of 216,000 square metres, with exits connecting with 28 contact gates. The terminal was designed to combine modernity and a uniqueness that conveys Thainess in various areas where exquisite beauty that reflects cultural heritage and way of life of Thai people in various regions are featured. It comes with full facilities that take into account the needs of all genders and ages equally through the adoption of 'Universal Design' concept. There is a meditation room, Muslim prayer rooms separated between women and men, babycare rooms, as well as a room and area for children to play, and waiting chairs with access to universal USB power charging power sockets. Plans are afoot for AOT to extend Suvarnabhumi's existing main passenger terminal to the east under the 'East Expansion' scheme that will provide 60,000 square metres in additional service to the main terminal. The project's design is being amened to attune with the changing aviation context for completion in 2024.
At Don Mueang, the Don Mueang Development Project Phase 3 has already been endorsed by the cabinet. The project's design is underway and being completed in 2024 with the construction beginning in 2025. The scheme calls for a third passenger terminal to serve international passengers with a service area of over 160,000 square metres. Renovation of the current passenger Terminals 1 and 2 at Don Mueang will follow to provide 240,000 square metres in additional space for serving domestic passengers. All in all, Don Mueang will be able to cater to 50 million passengers per year. There will be improvements to the traffic system within the airport with the construction of a 6-lane curbside, a connecting road from Don Mueang Tollway to the Departure Platform, and an elevated ramp from within the airport to the Tollway. Furthermore, there is the construction of a connection between the passenger terminal and the Red Line train station.
At Phuket Airport, its international passenger handling capacity is fully utilised, hence calling for AOT to speed up the construction of the extension of the international terminal to enable it to serve 18 million passengers per year. A company responsible for the design of the extension is expected to be named in 2024. When AOT is assigned to manage Krabi Airport, which has the capacity to accommodate 6.5 million passengers per year, the airport will ease air traffic congestion in the south. AOT's future takeover of Buriram and Udonthani International Airports will bolster the air network in the north eastern region which will enable AOT to efficiently manage the nationwide air network.
The AOT chief has also said AOT placed great importance on making its aviation centres environmentally friendly and supporting sustainability at neighbouring communities. There is an energy management policy for the most efficient use of energy and reducing greenhouse gas emissions being implemented. AOT has embarked on renewable energy projects at its airports, especially at Suvarnabhumi Airport with the installation of rooftop solar power panels with a total capacity of 4.4 megawatts. In the future, the airport would strengthen the solar power generation capacity as AOT has planned to have all its airports installed with solar panels. There is also a plan to turn vehicles and ground equipment serving its airports to electric-powered as a contribution to achieving AOT's Net Zero Carbon emissions goal.
Dr. Kerati concluded that AOT is entering its 45th year with a vision to operate the world's smartest airports that offers an impressive travel experience seamlessly and delivering a touch of modernity with innovation and superior standards like leading airports by observing transparency and accountability for the sustainable growth of the organisation.
------------------------------------------------------
Media Release No. 20/2023, 1 July 2023
Corporate Communications Department, Airports of Thailand Plc
Tel: 0 2535 5242, 0 2535 5245 Fax: 0 2535 5216
Email: aot_media@airportthai.co.th
Website: www.airportthai.co.th