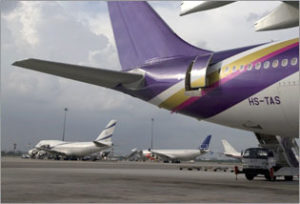 The Airports of Thailand Public Company Limited (AOT) was corporatized from a state enterprise, namely Airports Authority of Thailand (AAT), to be a public limited company on September 30, 2002 with the registered head of. ce at 333 Cherdwutagard Road, Don Muang, Bangkok 10210, Thailand. AOT is a leader of Thailand's airport business operator. Its main business lines are managing, operating and developing airports. Presently, AOT has 6 international airports under responsibility: Don Mueang, Phuket, Chiang Mai, Hat Yai, Chiang Rai and Suvarnabhumi, all of which accommodate both domestic and international flights. With the opening of commercial operations on September 28, 2006, Suvarnabhumi Airport serves as the main airport replacing Don Mueang International Airport, which was unable to accommodate the overwhelming air traffic growth. At an initial stage, Suvarnabhumi Airport has a capacity to accommodate up to 45 million passengers and 3 million tons of cargo per year. Within a single hour, the airport can operate up to 76 Flights.
AOT's main revenue derives from: (a) aeronautical revenue consisting of landing charge, parking charge, passenger service charge and aircraft service charge, and (b) non- aeronautical revenue consisting of concession revenue, office and real property rents and service revenues. In the management of airport operations, AOT has toacquire external operators to provide some required ground services for passengers as agreed under contracts with AOT. They are, for example, Thai Airways International Public Company Limited and Thai Airports Ground Services Company Limited. Operators of retail shops, warehouse facilities, limousines, parking services and other conveniences have to pay for concession fees, rent and service charges. Other non-contract tenants running services within AOT airports pay rent and service charges to the AOT.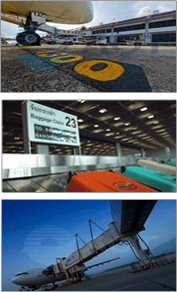 AOT Expertise in Airport Operation Management
The AOT management team has accumulated experiences and excellent expertise in airport operation management including airport development planning and airport improvement to meet required international standards and to be able to respond to various clients' needs. To enhance AOT's competitive edge in the international arena and to achieve the ambition to set Thailand as an aviation hub in Southeast Asia, AOT has developed the following strategies:
(A) Airport Development for Competitiveness
The commencement of Suvarnabhumi Airport for full commercial operations on September 28, 2006 is a significant strategy in increasing national competitiveness in the world arena. 'A Gateway to the Golden Land', Suvarnabhumi Airport is an aviation hub in Southeast Asia that attracts hights from across the globe and leads the way to countries in South and Southeast Asia, linking regional economic development to the world economy. A state-of-the-art international airport, Suvarnabhumi is fully equipped with facilities and highly efficient modern technology as well as has international standard security measures. These services cater to airlines and passengers with total satisfaction. Initially, the airport can accommodate up to 45 million passengers per year.
When the airport is developed to its full potential, it will be able to accommodate up to 100 million passengers per year. Mapping out the strategic plans duringthe .scal years 2006-2008 that aims to achieve a 1 out of 10 in the international world-ranking airportswith the highest number of passengers as well as to upgrade airport service quality to the world-class level will enable Suvarnabhumi Airport to compete with other international airports.
(B) Role of Airports in National Logistic System Development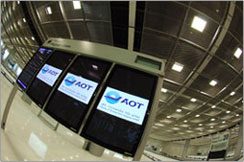 The opening of Suvarnabhumi Airport has significantly contributed to the dynamism that drives forward the national logistic system. With a Free Zone cargo management, freight transportation and cargo management at Suvarnabhumi Airport will be quicker, more convenience and efficiency. As a result, it has boosted growth in cargo transportation through Suvarnabhumi, increasing Thailand's competitive potential in the air transport industry. For regional airports,AOT will swiftly develop strategies that support logistics and tourism while expanding hight routingnetworks to cover all corners of the globe. AOT will establish Thailand as a logistic hub in air freight to GMS countries and those in South Asia. Meanwhile, Phuket and Chiang Mai International Airports will be developed to be the regional gateways of country.