AOT Celebrates its 42nd Anniversary, Forging Service and Capacity Development to Support the Organization's Sustainable Post COVID-19 Income When Air Travel Recovers.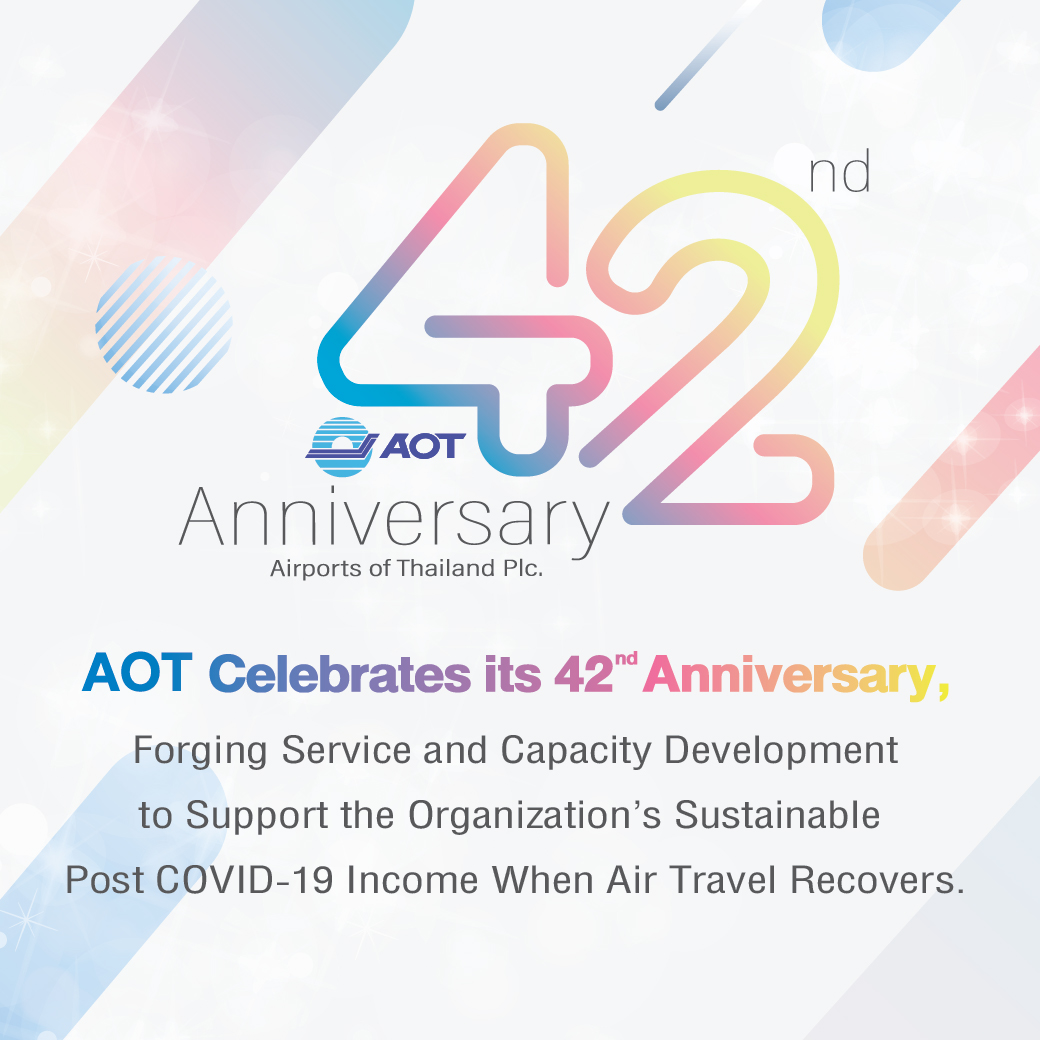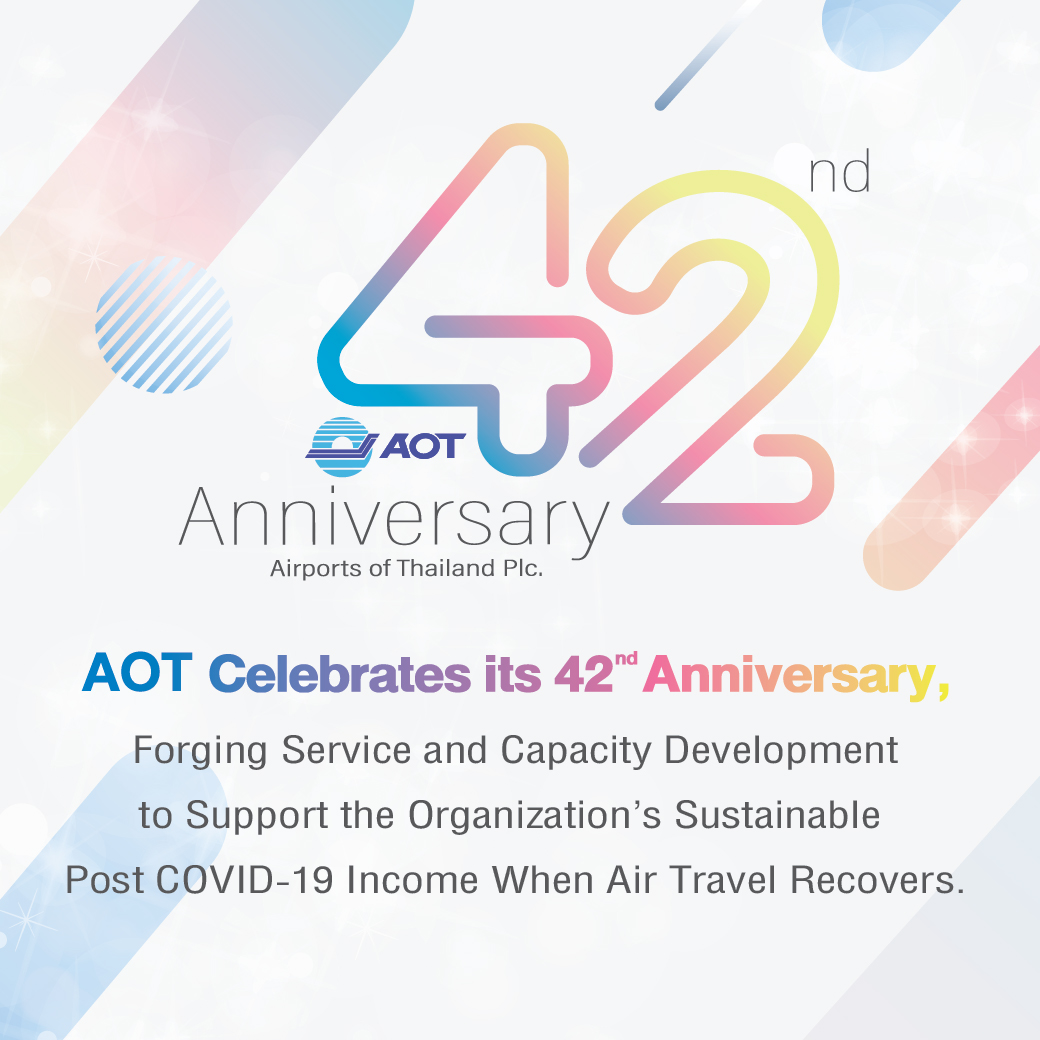 The Airports of Thailand Plc (AOT) marks its 42nd Anniversary of services on 1 July 2021 with a commitment to develop its airports extensively to increase air traffic capacity and enhance the passenger service to support the post-Covid-19 air travel and economic recovery. AOT determines to expand business in various fields in order to move toward sustainable growth.
AOT President, Dr. Nitinai  Sirismatthakarn said "AOT proudly celebrates the occasion of
the 42nd anniversary on 1 July 2021, the proud operator of six international airports including Suvarnabhumi Airport, Don Mueang International Airport, Chiang Mai International Airport,
Mae Fah Luang - Chiang Rai International Airport, Phuket International Airport and Hat Yai International Airport. For the past 8 months of 2021 fiscal year (Oct 2020 - May 2021), there were a total of 18.33 million passengers travelling through AOT 6 airports, a decline of 71.5% while overall aircraft movements was at 206,000 flights, plummeted by 51.6% (from 425,800 flights and 64.20 million passengers) from the same period last year. Despite the positive fact that AOT profited from the first quarter of 2020 or the so-called Golden Months, in the fiscal year of 2021, Thailand and many countries applied international travel restriction policy to prevent the spread of virus, and the Covid-19 second and third wave also put pressure on domestic travel recovery."
Dr.Nitinai also extended that the decrease in number of passengers and flights caused
an effect to AOT financial operation during the first half of fiscal year 2021 from 1 October 2020
to 31 March 2021 (company financial statement). AOT recorded total revenue of 4,540.16 million Baht; 3,748.03 million Baht of which were from sales or services, and the rest of 792.13 million Baht from other incomes. While the expenses were 13,464.40 million Baht plus income tax of 1,857.30 million Baht, resulting in a net loss of 7,066.94 million Baht in that period.
For 'Phuket Sandbox' program scheme, due to start on 1 July 2021, AOT is ready to serve international passengers by providing airport facilities and staff to guide passengers since the welcoming stage, travel documents and passport check, body temperature check and COVID-19 test. AOT also accentuates on cleanliness, social distancing, and adheres strictly to the preventive measures and COVID-19 surveillance in accordance with the Ministry of Public Health Policy. AOT and related agencies jointly rehearse the procedure for the passengers from international arrival and departure flights to ensure airport users' confidence amidst the outbreak.
As COVID-19 is considered one of the worst crises in history, affecting global aviation and travel industries and clearly impacted AOT's management and operations. Therefore, AOT has evaluated and analyzed the post-COVID-19 situation in terms of travel trends, passenger behavior, aviation and tourism industries' directions, especially the use of modernized technologies to facilitate passengers and reduce the risk of infection from air travel in accordance with The New Experience Travel Technologies (NEXTT) created by International Air Transport Association (IATA) and Airport Council International (ACI). The goal is to ensure passenger confidence in air travel safety. These approaches were applied and adapted to the corporate strategies, aiming at the soonest recovery. Throughout the time, AOT has developed and continued to use contactless systems in some airports and will cover all in the future. The said systems are
(1) The Common Use Passenger Processing System (CUPPS) were initiated at Suvarnabhumi Airport to ease congestion by eliminating the queuing for check-in and baggage drop-off processes. The system includes Common Use Self Service System (CUSS) and Common Use Bag Drop (CUBD). The CUSS offers self-check-in kiosk to passenger and in the future AOT will provide Bio Metric Technology where passenger will be able to complete self-verification without presenting air ticket at immigration control counters and boarding gates. Common Use Bag Drop (CUBD) will offer self-service bag drop for passenger.
(2) The Real Time Passenger Tracking System was introduced at Suvarnabhumi Airport, Don Mueang International Airport and Phuket International Airport. The intelligent tracking technology will display current waiting time on screen for ticket-check areas, security check points and passport control procedures. Passengers can check their waiting-queue status on the real-time monitor and estimate their waiting times in queueing area as well as using service at the airport from AOT Airports Application. Furthermore, the system also provides the airport staff with density alert which could help managing passenger flows and congestion at some areas according to the social distancing purpose.
(3) The Smart Carpark System was installed at Suvarnabhumi Airport, Don Mueang International Airport and Phuket International Airport. The new automated technology
is designed for self-parking service such as automated ticket collection, free parking space detection, displaying numbers of vacant parking space and position, real-time recognition system. Smart Parking Kiosk also provides car locating by license plate detection which can reduce social contact between airport users and employees.
Besides service quality and passenger facilities enhancement, AOT also focuses on airport expansion and capacity improvement. Suvarnabhumi Airport Development Project (Phase 2)
is 95% of progress and Satellite 1 Building (SAT-1) is under operational readiness process.
The recovery directions of air traffic movements and travel demands in the future are considered  along with efficient management in Main Terminal Building and overall infrastructure and facilities of Suvarnabhumi Airport. AOT has placed importance on appropriate Level of Service, New Normal Travel as well as aircraft utilization management of airlines based at Suvarnabhumi Airport.
Don Mueang International Airport has planned for its third-phase development to enhance full capacity of the existing spaces to serve 40 million passengers per year.
Presently, the Environmental Impact Assessment Report (EIA) is being revised as determined by the Expert Committee Considering the Applicant for Environment Impact Assessment Report. Then the report will be submitted to the Office of Natural Resources and Environmental Policy and Planning (ONEP) for consideration while proposing for the budget approval of the project
is proceeded according. The project document is now on revision to be proposed to the National Economic and Social Development Council (NESDC). The project's design work
is expected to start in 2022. In 2021 the problem of traffic congestion along the terminal curbside will not be found at all as Don Mueang International Airport is going to construct
"Taxi Drop Lane" which adds more 2 traffic lanes for along the curbside separately for taxi
to drop-off passengers, together with other necessary facilities such as curbside roof, automatic moving ramp, CCTV and air conditioning system at gates 9-10 and gates 14-15 of Domestic Passenger Terminal.
Chiang Mai International Airport has planned its first phase of development project to serve passengers up to 16.5 million passengers per year. Currently, the project is on the way to hire a consultant for project conceptual design which will take time for 1 year and also to propose the amendment version of EIA report to the Expert Committee Considering the Applicant for Environmental Impact Assessment Report. The development project phase 1
is expected to be proposed to the cabinet by the beginning of 2022 and then will open for bidding process onwards. The construction is scheduled to be completed in 3 years and could start its operation in 2026. The other 3 airports of AOT; Mae Fah Luang-Chiang Rai International Airport, Phuket International Airport and Hat Yai International Airport, are still undergoing the development projects according to AOT Development Master Plan.
Apart from enhancing airports' capacity and efficiency,  AOT is also aiming to expand Non-Aeronautical Revenue by continuing its land development project along with promoting
potential area through various channels such as AOT website, Line Application (Entrepreneur Private Group) as well as preparing assets that change throughout the socio-economic conditions including property valuation, compensation and drafting the invitation notice. AOT is requesting to extend the ending period for using state property, from 2032 to 2052. In addition, AOT plans for a joint investment with private sectors that run under a Public-Private Partnership Act, B.E. 2562 covering big and small projects such as major plots of 723 rai near Wat Sriwaree Noi Road which is planned to be "Suvarnabhumi Business Support and Service Center", covering 221.5 acres (560-1-99 rai), supporting aviation activities, air transport, airport operations and related business. Now it is on preparing step to develop and improve the infrastructure system within project area to connect to the airport and surrounding areas.
For sustainable growth of the organization and airport users' confidence in airport services as well as business continuity of core service within AOT's airports, AOT has invested into subsidiary company or joint venture partners to run aeronautical business in order to raise operational standards and diversified business, creating diversification growth strategy such as increase revenue opportunities, risk diversification and create long-term sustainable growth.
AOT established 3 subsidiary companies including AOT Aviation Security Company Limited (AVSEC), AOT Ground Aviation Services Company Limited (AOTGA) and AOT TAFA Operator Company Limited (AOTTO). Moreover, AOT is thrilled to create value added for agricultural products and collaborate with Department of Agriculture, Ministry of Agriculture and Cooperatives, to open a pre-export center for the certification of agriculture and food shipments. AOT will adjust the fourth cargo of Suvarnabhumi Airport Free Zone as Certify Hub. After the draft of the Memorandum of Understanding is approved, the project will be submitted to Ministry of Transport and Ministry of Agriculture and Cooperatives for further consideration. Certify Hub will take 4 months for construction and renovation and is expected to serve agriculturist in early 2022.
"42 years of AOT's operation, thrive through thick and thin (in between success and crisis). Despite facing new challenges in the following years, AOT has laid solid business foundation to cope with changing environment, as well as growing and reaching its vision as the world's smartest airport operator that drives aviation industry and Thai economy." Nitinai said at the end.
------------------------------------------------------
Media Release No. 25/2021, 1 July, 2021
Corporate Communications Department, Airports of Thailand Plc
Tel: 0 2535 5242 Fax: 0 2535 5216
Email: aot_media@airportthai.co.th
Website: www.airportthai.co.th