AOT reiterates rules on bringing lithium batteries on board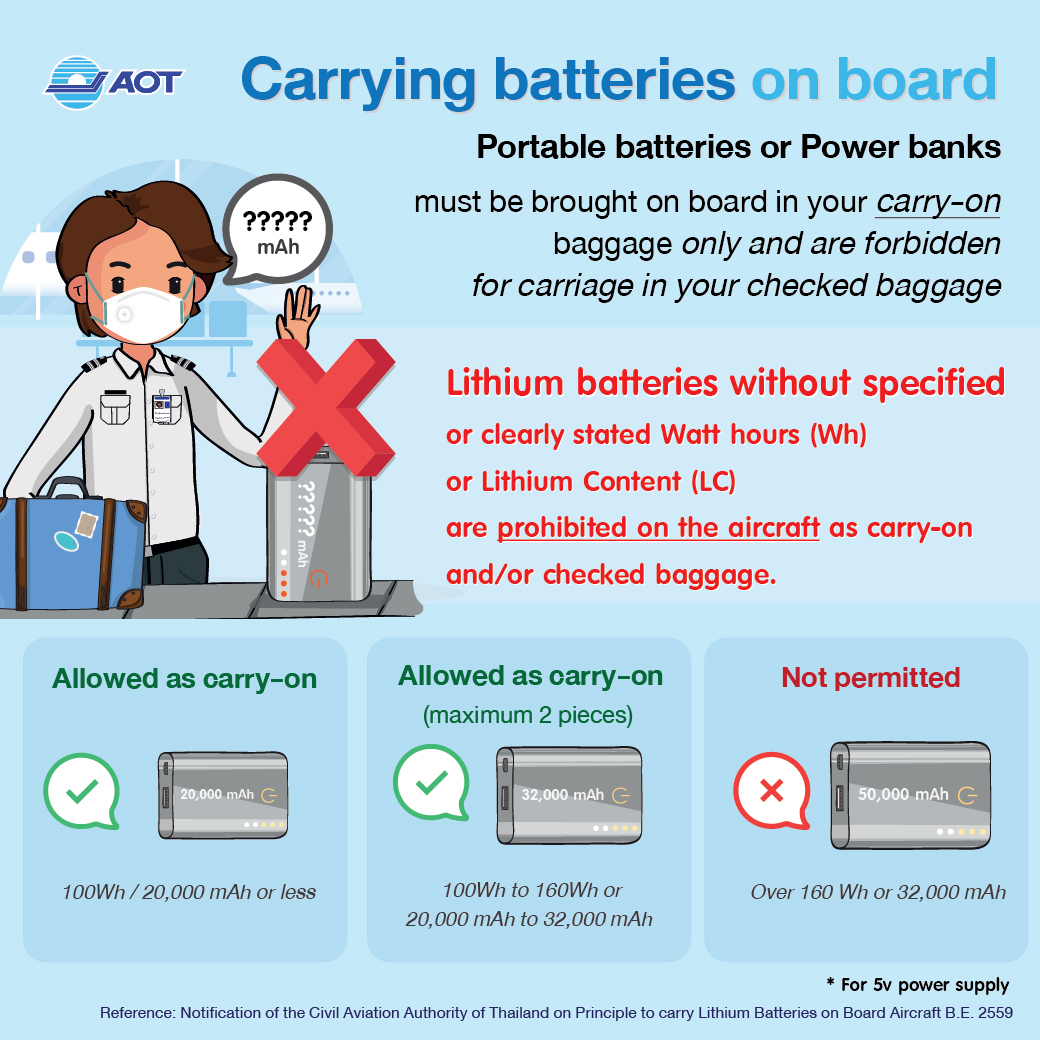 The Airports of Thailand Public Company Limited (AOT), an airport operator of Thailand's 6 major airports namely Suvarnabhumi Airport, Don Mueang International Airport, Chiang Mai International Airport, Mae Fah Luang-Chiang Rai International Airport, Phuket International Airport and Hat Yai International Airport, asks for passengers' cooperation not to bring over specific capacity of spare lithium batteries on board in accordance with the Civil Aviation Authority of Thailand (CAAT)'s Notification on Principle to carry Lithium Batteries on Board Aircraft B.E. 2559.
As such, spare lithium batteries of capacity less than or equal to 100 Wh rating or 20,000 mAh
are permitted in carry-on bags but cannot be carried in the checked baggage. The medium-sized spare lithium batteries of not exceeding 100-160 Wh rating or 20,000-32,000 mAh are allowed in carry-on bags not over 2 pieces per person but cannot be carried in the checked baggage.
The large spare lithium batteries of over 160 Wh or 32,000 mAh are not allowed to be carried
on board and packed in the checked baggage.  In addition, the spare lithium batteries without specified or clearly stated Watt hours (Wh) or lithium content (LC) are prohibited to be carried
on board or packed in the checked baggage.
However, passengers should contact and notify the carrying airline in advance when making a reservation in case the spare lithium batteries of exceeding CAAT's specific capacity are required to be brought on board. AOT and its 6 airports have adhered to the CAAT's notification for the utmost safety of airport users and passengers on the basis of providing services in accordance with the International Civil Aviation Organization's (ICAO) regulations to maintain the international safety of Thai aviation industry.
------------------------------------------------------
Media Release No. 42/2020, 23 September, 2020
Corporate Communications Department, Airports of Thailand Plc
Tel: 0 2535 5242 Fax: 0 2535 5216
Email: aot_media@airport thai.co.th Website: www.airportthai.co.th