AOT reiterates the guidelines to carry firearms and ammunition on board aircraft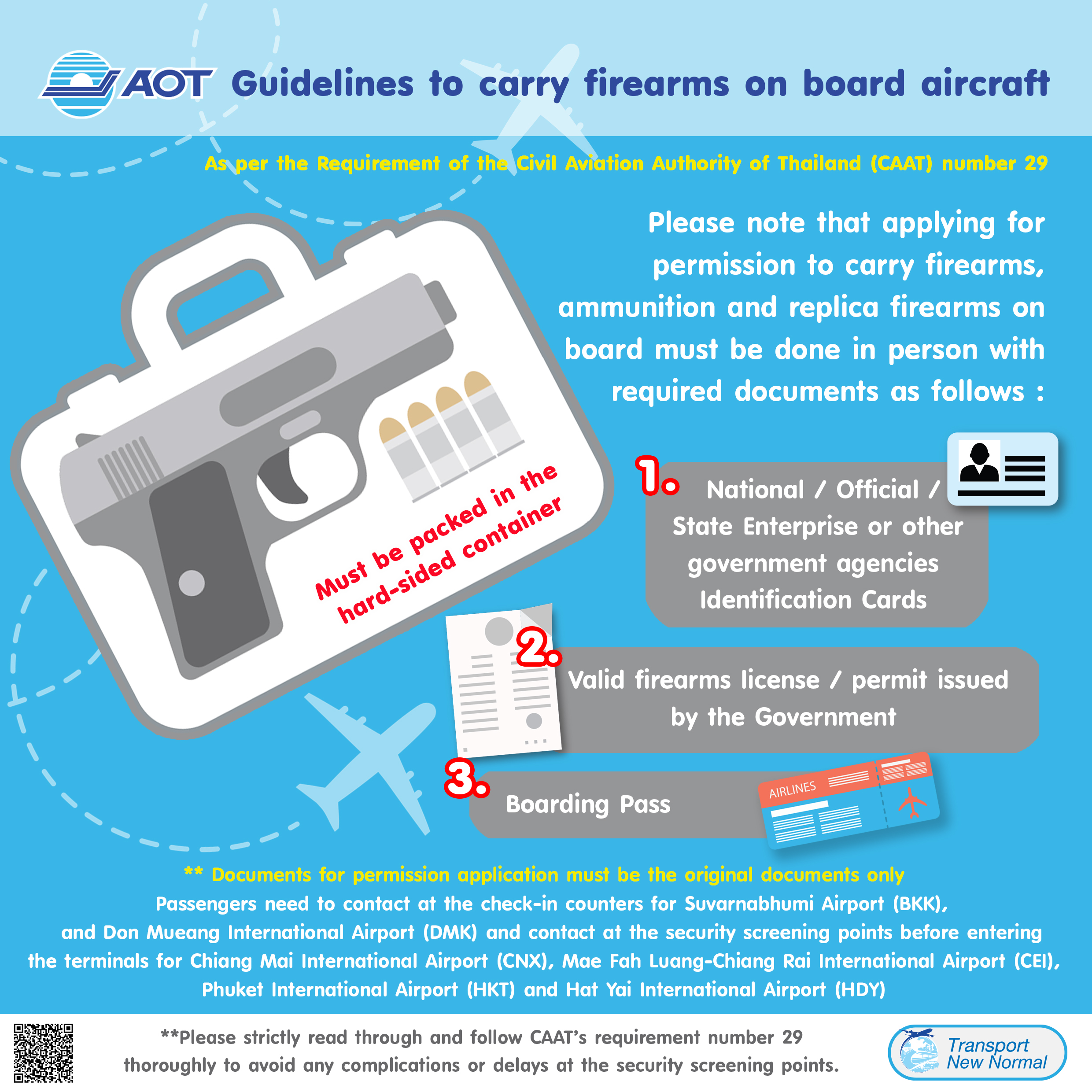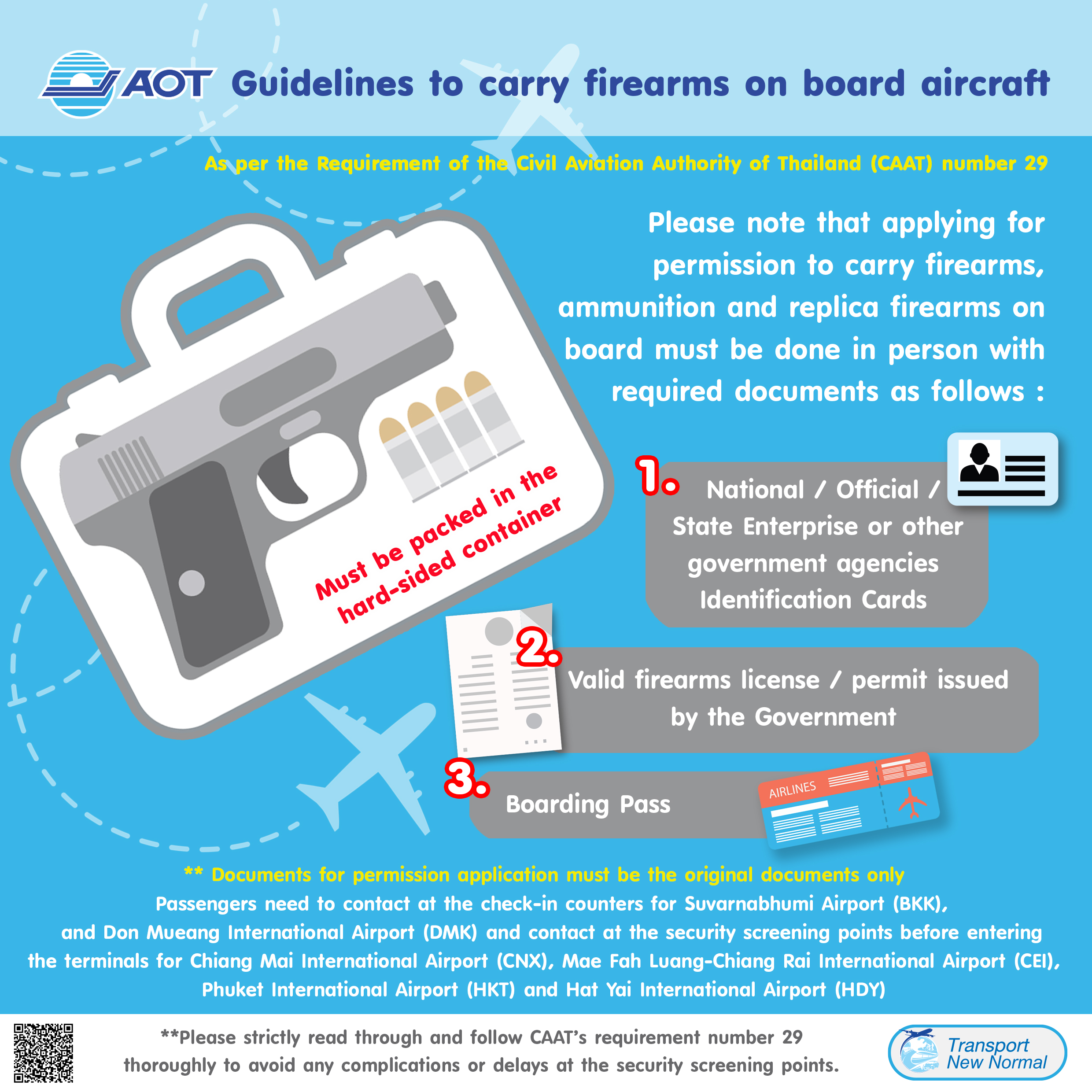 Airports of Thailand Public Company Limited (AOT), an airport operator of Thailand's
6 major airports namely Suvarnabhumi Airport(BKK), Don Mueang International Airport(DMK),
Chiang Mai International Airport(CNX), Mae Fah Luang-Chiang Rai International Airport(CEI), Phuket International Airport(HKT) and Hat Yai International Airport(HDY), emphasizes the airport regulations on carrying firearms, ammunition and replica firearms on board aircraft, which are considered as dangerous goods and prohibited items in accordance with the announcement of the Civil Aviation Authority of Thailand (CAAT) on dangerous goods and prohibited items to be brought in the airport restricted area and carried on board aircraft B.E.2563. For the utmost safety, therefore, AOT asks for cooperation from passengers and airport users to follow laws and regulations based on the international aviation standards and the prevention measure on the act of unlawful interference.
The Requirement of The Civil Aviation Authority of Thailand (CAAT) number 29 on the Rules and Conditions for permission passengers to carry Firearms, Ammunition and Replica Firearms on board aircraft has defined that the state official and passenger who require to carry firearms, ammunition and replica firearms on board aircraft, both domestic and international flights including transfer or connecting flights, from the airports in Thailand to the airport of destination under the law of the destination country, must be granted permission from the airport of origin to follow the procedures with required documents such as  1. National/government/state enterprise identification card 2. Valid Firearm License/Permit or any other firearm certificates issued by the government, and 3. Boarding pass. All documents to be applied for permission must be the original ones while the notification or lost/damaged document daily report will not be accepted. In addition, passengers must submit the documents at check-in counters at BKK and DMK, and at the security check points before entering the terminals at CEI, CNX, HKT and HDY. Carrying firearms, ammunition and replica firearms on board must be packed in a hard-sided container. However, the solid container can be asked from the airline with charge and the airline's security article tag will then be attached with the container for item's returning process.
To prevent any delay in security screening process, passengers should read through the requirement of the CAAT number 29. Nevertheless, AOT's 6 airports have implemented according to the Civil Aviation Authority of Thailand (CAAT)'s announcements and requirements for security measures of international standard as specified by the International Civil Aviation Organization (ICAO) in order to build trust and confidence of tourists all around the world and to support national aviation industry to the global acceptance.
-------------------------------------------------------------------
Media Release No. 49/2020, 19 October, 2020
Corporate Communications Department, Airports of Thailand Plc
Tel: 0 2535 5242 Fax: 0 2535 5216
Email: aot_media@airport thai.co.th Website: www.airportthai.co.th