AOT Selected as DJSI Member for 7th Consecutive Year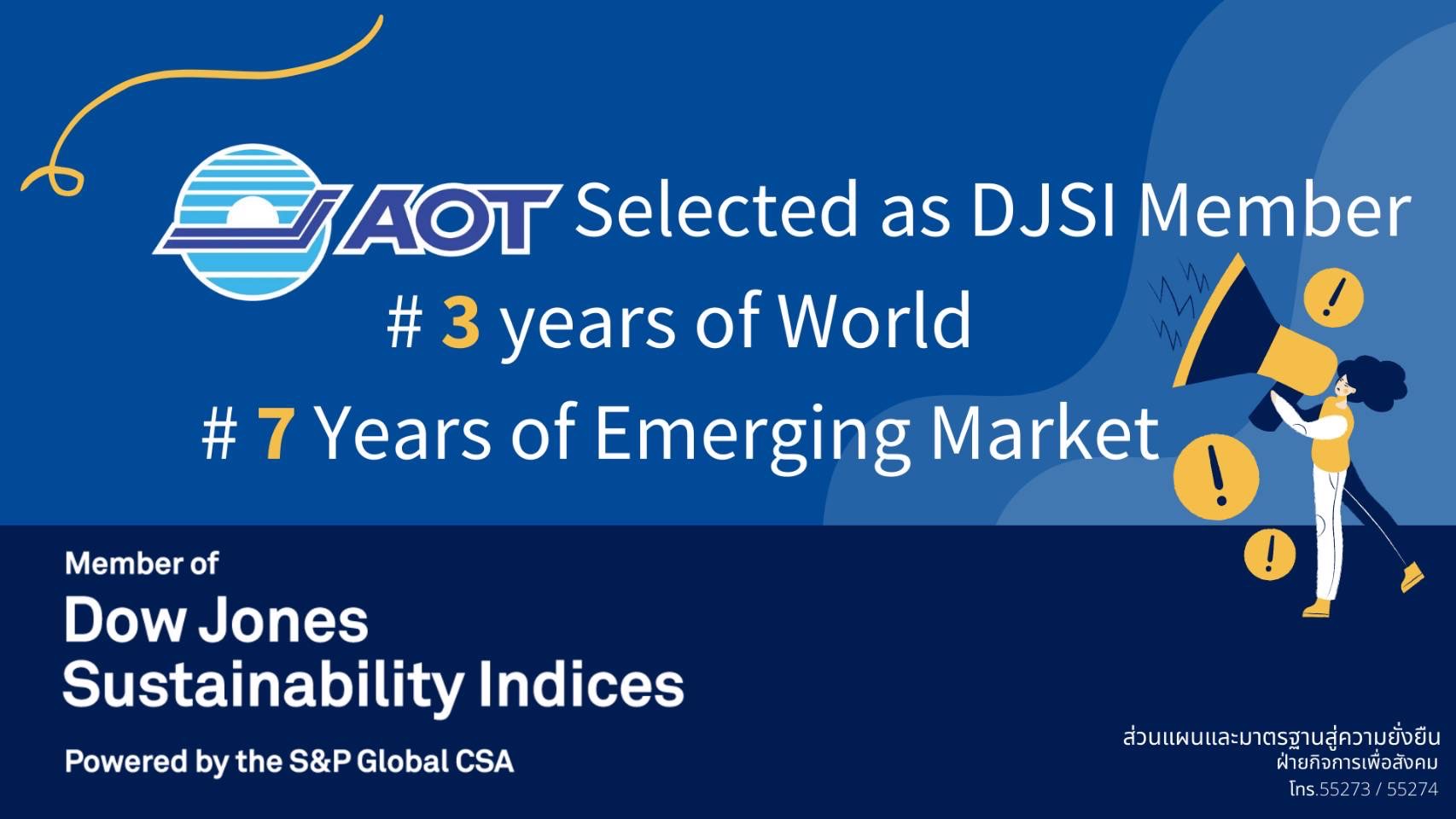 On 12th November 2021, (13th November 2021: 05.51 a.m. based on local time) AOT was selected as a member of Dow Jones Sustainability Indices 2021 (DJSI 2021) at the level of DJSI World for the 3rd consecutive year and the Emerging Markets Group for the 7th consecutive year   in Transportation and Transportation Infrastructure (TRA) sector. AOT scored number one of the airport participants and was ranked fourth of the 105 assessed airports. In this regard, the 106 global leading companies including three Thai companies were invited to join this assessment survey in TRA sector.
DJSI is an internationally recognized index used to assess the effectiveness of business operations in accordance with the sustainable development practices of global leading companies through considering the business performance which has effective management in three important dimensions-including economy, society and the environment. This internationally recognized achievement reflects the AOT's commitment in operating its business in accordance with sustainable development from inside-out, consideration of all stakeholders, along with generating sustainable returns for investors in the long run and continuous business growth.
AOT has been listed as a member of the DJSI in Emerging Markets since 2015 and in DJSI World Index, TRA sector, since 2019.
------------------------------------------------------
Media Release No. 49/2021, November 16, 2021
Corporate Communications Department, Airports of Thailand Plc
Tel: 0 2535 5242 Fax: 0 2535 5216
Email: aot_media@airportthai.co.th
Website: www.airportthai.co.th