Floating lanterns are banned near city's airports during Loy Krathong Festival 2020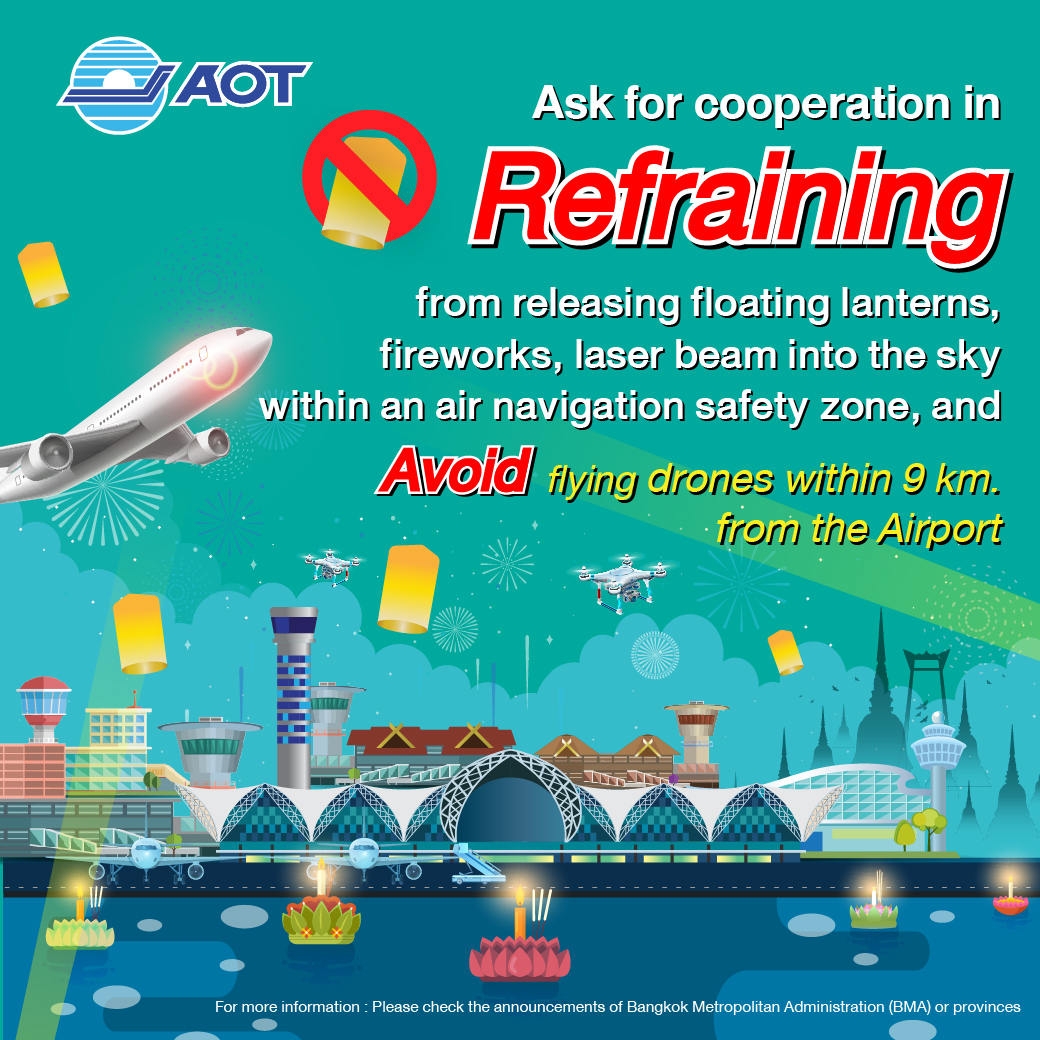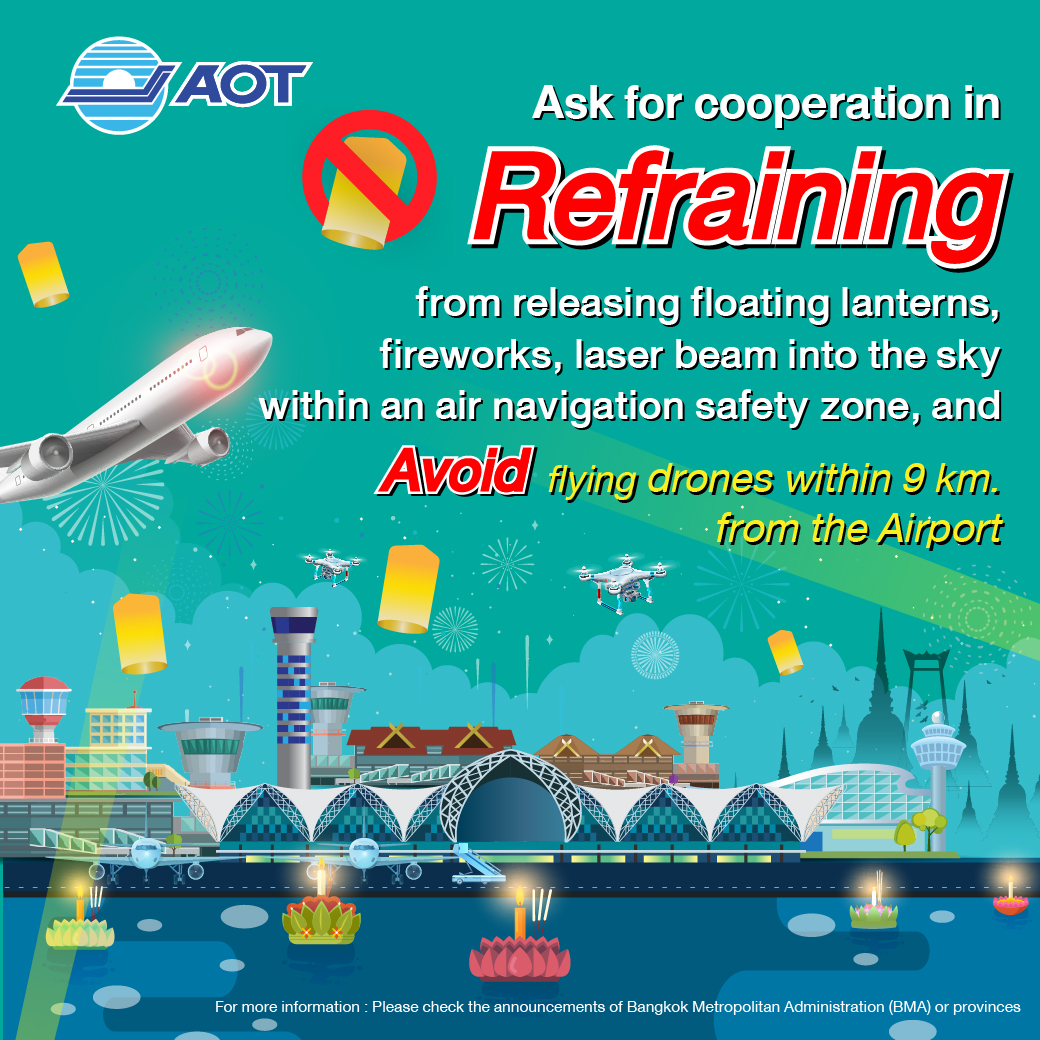 Airports of Thailand Public Company Limited (AOT) asks for cooperation not to release floating lanterns, fireworks, laser beam and drones near AOT's 6 airports during the upcoming
Loy Krathong Festival to avoid accident against aircraft, passengers and general people.
During 31 October – 1 November 2020 of this year Loy Krathong Festival, people in some areas usually launch flying lanterns with a belief to bring them good fortune. As an airport operator of 6 airports including Suvarnabhumi Airport, Don Mueang International Airport, Chiang Mai International Airport, Mae Fah Luang-Chiang Rai International Airport, Phuket International Airport and Hat Yai International Airport, AOT asks for cooperation from people not to release flying lanterns, fireworks, balloons, laser beam and drones into the sky within an air navigation safety zone (airfield and its surrounding area) which would jeopardize aircraft and visual range of pilots, according to Thailand Air Navigation Act B.E.2497 and the Announcement of the Civil Aviation Authority of Thailand (CAAT) on Organizing Activities within Air Navigation Safety Zone B.E.2563 which prohibits to release floating lanterns, sky rocket, fireworks, laser beam and similar objects into the sky. In order to comply with the Announcement of CAAT on Rules to Apply for Permission and Conditions to Control and Launch Unmanned Aircraft in the Category of Remotely Piloted Aircraft within 9 km. (5 nautical miles) from Airport or Temporary Airfield B.E.2561, using of drone near the airport area must be correctly permitted from authorized person every time prior to launching, and even then, strictly follow criteria set by authorities.
Moreover, the releases of floating lanterns outside the air navigation safety zone must be conformed to the announcements of Bangkok Metropolitan Administration (BMA) or provinces, which would specify the launching zones, and must ask for permission from local district chiefs at least 7 days in advance. Additionally, lighting and releasing flying lanterns within air navigation safety zone of Chiang Mai Province are strictly banned in 5 districts i.e. Mueang (all sub-districts),  Hang Dong (all sub-districts), Saraphee (Khua Mung, Don Kaew, Tha Wang Tan and Nong Phueng sub-districts), Mae Rim (Don Kaew, Rim Tai, Mae Sa sub-districts) and Sansai (Nong Han sub-district). However, releasing floating lanterns outside air navigation safety zone in Chiang Mai is permitted during 31 October-1 November 2020 between 7:00 p.m. – 1:00 a.m. with the permission to be obtained from local district chiefs 15 days in advance and then inform Chiang Mai International Airport or local air traffic control center 7 days in advance to issue the Notice to Airmen (NOTAM) in order to warn pilots beforehand. In this connection, as at 22 October 2020 there were 25 flights to be cancelled and the other 57 flights to be rescheduled, totally 82 flights, in order to avoid any effects caused by launching floating lanterns during traditional festival.
For the utmost safety of aircraft and passengers at our 6 airports during this festival, AOT, therefore, has launched the campaign for releasing floating lanterns under safety measurements in order to give the appropriate guidelines and implementation in releasing lanterns during the Loy Krathong Festival while promoting and carrying on this national tradition by arranging photograph kiosk inside Terminal Building of the airport.
----------------------------------------------
Media Release No. 51/2020, 23 October, 2020
Corporate Communications Department, Airports of Thailand Plc
Tel: 0 2535 5240, 0 2535 5245 Fax: 0 2535 5216
Email: aot_media@airportthai.co.th
Website: www.airportthai.co.th